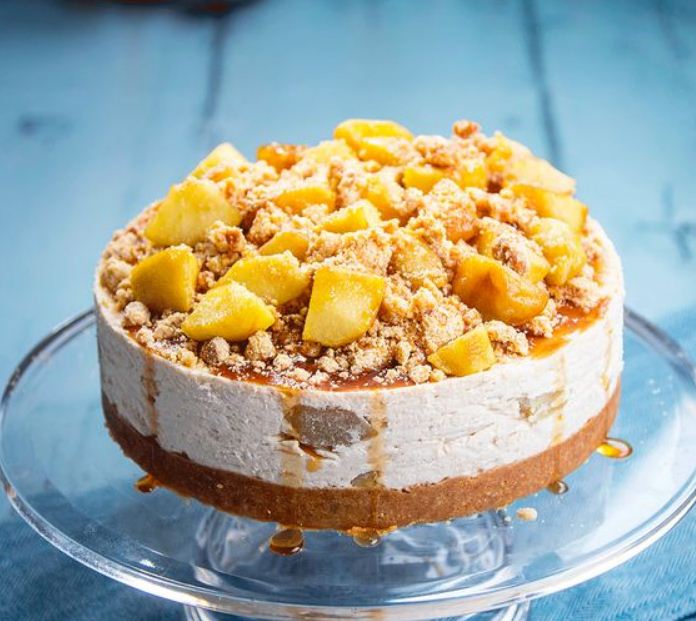 History Of Apple Cheese Cake
Apple cheese cake was first mentioned by a Greek physician Aegimus in its book "on the art of making cheese cake" and this dish was a popular dish in ancient Greece.Use of cheese and cheese products were used in ancient times but  this was done before the invention of writing.Research tells that cheese cakes were served to athletes as it was a good source of energy and was also served in weddings.
The writer Aethenaeus wrote first cheese cake recipe in 230 AD but this recipe was very basic as recipe constitute of mix spring wheat flour with honey and pounded cheese in a brass pan and heat the cheesecake in accumulated form.
After conquering Greece the Romans used to serve it when they were victorious.Romans made some changes to the recipe as they added eggs to the recipe and the these cakes were made under a hot brick and served warm.
These recipes came to Europe when Roman empire grew and hey took control over the Europe and it was at that time that the this cake's recipe was modified and ingredients to each region of the Europe were added to the recipe.
This cake's recipe was first introduced in 1545 in a cook book named as "flour based sweet food".In 18th century when this when this recipe was recognized in Europe as cheese cake recipe the Europeans begin to use beaten eggs instead of yeast to make their breads and cakes rise.
This cake was brought to America by the Europeans.This recipe became very famous in New York but the New Yorkers didn't add any fruits in the dessert and this cake was made by egg yolks and cream and chocolate takes place on the top of the cake and on its sides and the famous cake takes its flavor from the egg yolk and cream.Arnal Reuben (1883-1970) born in Germany came to America when he was young.He was invited in a party where the cheese pie was served by the hostess and he was impressed by the cheese pie that he experimented over with the recipe until he invented the NY style cheese cake and it was from that time that restaurants in different cities of the US have their cheese cake recipe with some modifications as Newyork style cheese cake has fruits on the top and on the side and sour cream is added to make cake creamy and in Saint Louis they put butter in the recipe.
Ingredients
Cooking time : 15-20 minutes Makes 12
For the biscuit crust
(1) Plain all purpose flour 175 g/6 oz or 1½ cups in American
(2) Salt pinch or pinch in American
(3) Butter 75 g/3 oz or 6 tbsp
(4) Sugar 25 g/1 oz or 2 tbsp
(5) Egg yolk 1 or 1 in American
(6) Water to bind or to bind in American
(7) To glaze:
egg white 1 or 1 in American
(8) For the filling Of Apple Cheese Cake
cooking baking apples (weight when peeled and cored),sliced 225 g/8 oz or 1/2 lb in American
(9) Finely grated lemon rind 1 teaspoon or 1 teaspoon in American
(10) Lemon juice 2 tbsp or 3 tbsp in American
(11) Caster sugar 50 g/2 oz or 1/4 cup in American
(12) Ground cinnamon pinch or pinch in American
(13) butter 25 g/1 oz or 2 tbsp in American
(14)egg 1 or 1 in American
(15) Fine soft breadcrumbs 25 g/1 oz or 1/2 cup in American
Method
Sift the flour and salt.Cream the butter and sugar until soft and light.Add the flour and yolk and enough water to make a firm rolling consistency.This particular pastry can be kneaded fairly firmly.Roll out the pastry and line 12 deep individual patty tins( patty shells).Prick the bottom of the pastry shapes, brush with the eggs white. Bake blind just above the center of the moderately hot oven, 200°C/ 400 °F Gas mark 6, for 12 to 15 minutes until firm. Meanwhile put the apple slices ,lemon rind,lemon juice and sugar into saucepan,do not add extra water.Cook gently until the apples are soft.Beat with a wooden spoon to give a smooth pulp. Remove from the heat and and add the cinnamon,butter,egg and breadcrumbs.Blend thoroughly and cook over a very low heat and thickened.If serving hot put the hot apple mixture into the hot pastry. serve with cream or ice cream.If serving cold allow both the pastry and the filling to become cold, then spoon the apple mixture into the pastry cakes.
Summary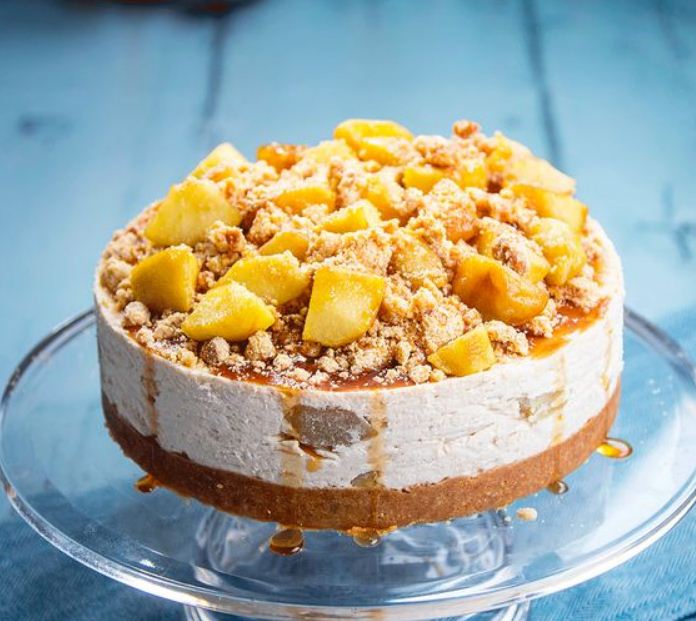 Article Name
Description
A dessert like cheese cake should contain healthy ingredients and its taste should be up to the mark.
Author
Publisher Name
Publisher Logo