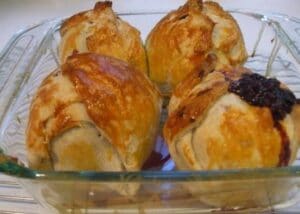 Cooking Time :55 minutes Serves 4
This is a less usual name given to apple dumplings, when the apples are filled with marmalade or apricot jam and enclosed in puff pastry.When cooked , dredge the dumpling with caster sugar.
Make puff pastry (recipe is given below).With 225 g/8 oz (2 cups) flour etc.Roll out until paper thin.Cut into 4 squares which should be sufficiently large to close the apples.
Peel and core 4 cooking (baking) apples .Place the apple in the center of each piece of pastry.
Fill the centre of the apples with jam or marmalade.Moisten the edges of the pastry, bring up around the apples seal the edges
.If any pastry is left ,decorate the dumplings with the leaves of the pastry..Brush with lightly whisked egg white.
Bake in the center of a hot oven, 220 °C/425°F Gas mark 7, for 20 minutes , then reduce the heat to 180°C/350°F Gas mark 4, for 35 minutes.
Note;Apples in a nightgown is a delicious apple dish which is sweet and tasty dessert dish which is also healthy because of its ingredients which are used to make this dish. 
The ingredients used to make the dessert dish are really important because the ingredients plays a vital role in making a dish delicious and healthy and last but not the least the techniques used to prepare the dessert are also very important because if you are not following techniques to prepare any kind of dish then the dish will not have a natural good taste which a good technique can make by making good use of the ingredients used to make the dish.
If a person is not following a genuine recipe having best cooking,baking techniques etc then these kind of recipes make use of unhealthy ingredients like making too much use of sugar or sugar syrups and artificial flavours.
Hence following a good recipe is the best way to have a delicious and healthy dessert dish.