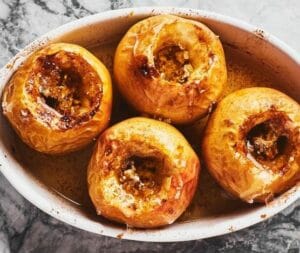 Chose best quality cooking apples for baking.Always slit the skin round the center of the apples before they are baked;this prevents the pulp breaking through the skin.The apples can be cored and the centre filled with a knob of butter.A little brown sugar or golden (light corn) syrup or with dried fruit or mincemeat or with bramble (blackberry) jelly or apricot jam.They can be coated with pastry as a recipe. A medium sized cooking (baking) apple takes approximately 45 minutes to cooking the center of a moderate oven, 180° C/350° F Gas mark 4.
Snowball apples: When cooked, the apples can be covered with meringue .Allow 1 egg white and 50 g/2 oz (1/4 cup) caster sugar to each apple.Whisk the egg whites until stiff, gradually beat in half the sugar,then fold in the remainder.Skin the apples if wished.Spoon the meringue over the apples.Bake in a slow to a very moderate oven,150 to 160 °C/300 to 325 °F Gas Mark 2 to 3 ,for 15 to 20 minutes.Decorate with angelica cut into leaf shapes,a tiny twig (non edible) to look like the stalk and twists of orange or lemon rind. To make a more satisfying dessert, serve the apples on rounds of plain sponge cake.
Summary
Article Name
Description
A dessert recipe should be tasty and the dessert dish should be delicious and it should contain healthy ingredients.
Author
Publisher Name
Publisher Logo