Savory Swiss Stake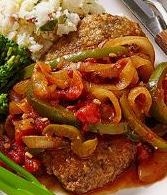 Scale lb=pound qt= 32 ounce oz= 1 ounce tsp=teaspoon pt= 16 ounce
YIELDS: 50 PORTIONS EACH PORTION: about 5 oz. with 2 oz,sauce
STEP ONE
INGREDIENTS
QUANTITY

Bottom round,
trimmed
(5 oz.steaks)

Bread flour,seas
oned with salt
and pepper
Salad oil

50 lb

1 lb

1 qt
METHOD
1. Dredge steaks in seasoned flour .Pour oil in skillet to depth of 1/8 in,;heat.Add steaks and brown on both sides.Place steaks in brazier or roast pan.
STEP TWO
INGREDIENTS
QUANTITY
Beef stock

Tomato puree

Soy sauce

Black Pepper

Whole cloves

Bay leaves

Thyme

Savory

5 qt

8 oz

5 oz

1 tsp

6

2

1/2 tsp

1/2 tsp
METHOD
2. Combine all ingredients and simmer for 20 minutes to make hot stock.
STEP THREE
INGREDIENTS
QUANTITY
Salad oil
Onions,small
dice
Garlic crushed
Celery,small
dice
Bread flour
salt
1 pt
1 lb

2 cloves
1/2 lb

12 oz
to taste
METHOD
3. Saute onions,garlic and celery in oil in sauce pot until vegetables are tender.Add flour to make roux.Stir and cook for 10 minutes.;browning lightly.

4. Strain hot stock and add gradually to roux,stirring until thickened and smooth.Adjust seasoning with salt if desired and pour sauce over steaks.Bake at 350 degree F.about 2 hr. or until tender.

5. Serve one steak per portion with sauce.
Braised Short Ribs Of Beef Recipe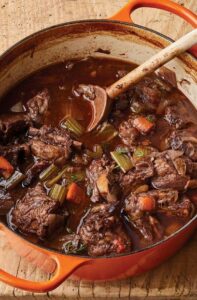 Scale pt=16 ounce qt=32 ounce lb=pound or 16 ounce oz=ounce
ea=each serving tsp=teaspoon tbsp=table spoon
YIELD : 50 portions EACH PORTION: 10 oz. rib with 3 oz sauce
STEP ONE
INGREDIENTS
QUANTITY
short ribs


Onions,peeled
,medium cut

Carrots scrubbed,
medium cut

Celery,cleaned
medium cut.
50 (about
10 oz.ea)

1 ½ lb


½ lb


½ lb

METHOD
1. Trim ribs; remove fat and tie meat to bone.
2. Put vegetables in lightly greased roasting pan and place short ribs on top.
STEP TWO
INGREDIENTS
QUANTITY
salad oil

Sweet basil

sage

thyme
1 pt

2 tsp

½ tsp

½ tsp
METHOD
3. Pour 1 cup oil evenly over all. Combine spices and sprinkle as evenly as possible
over top.Brown in oven at 400 degree F.,turning as necessary.Do not let vegetables
burn.
STEP THREE
INGREDIENTS
QUANTITY
Bread Flour
Beef stock,hot
Tomatoes,chopped.

1 lb
6 qt
1 No.2½
can
METHOD
4. When nicely brown add remainder of oil and flour blending well.Cook for 5 to
10 minutes Add hot stock stirring to mix well until slightly thickened.Add
tomatoes and blend.Cover,return to oven and cook to 2 to 2 1/2 hours or
until tender.
STEP FOUR
METHOD
5. When ribs are cooked remove to clean pan.Strain sauce Adjust seasoning and thickening.Remove excess fat.Pour sauce over ribs.

6. Hold for service in warm place but do not continue to cook .When serving remove string.Serve one 10 oz rib portion with 3 oz sauce. A fresh vegetable garnish may be added.
Baked Hamburger loaf Recipe
Scale lb=pound oz=1 ounce
YIELD: 50 portion EACH PORTION: 1 slice with 2 oz sauce
STEP ONE
INGREDIENTS
QUANTITY
Onions , chopped
fine
Celery ,chopped
fine
Salad oil



3 lb

1 lb

8 oz



METHOD
1. Saute onions and celery in oil until tender.
STEP TWO
INGREDIENTS
QUANTITY
Bread trimmed
Milk
Or stock
Eggs,Whole
Salt
Pepper
Beef,ground
1 1/2 lb
1 pt

8
to taste
to taste
13 lb

METHOD
2. Place bread in large mixing bowl and add milk mix thoroughly until smooth.

3. Add eggs,celery,onions and seasonings.

4. Add beef and mix thoroughly.If mixture is too moist adjust consistency by adding
bread or cracker crumbs.

5. Form in 3 lb loaves.Place in lightly greased roast pan and lightly oil outside
of loaves.

6. Bake in preheated oven at 350° F for 1 ½ hours.
Minute Steak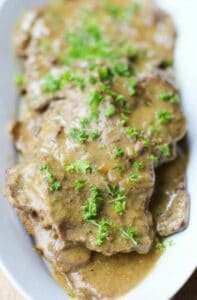 Scale lb=pound oz=1 ounce
YIELD: 50 Portions EACH PORTION: 6 oz
STEP ONE
INGREDIENTS
QUANTITY
Sirloin strips ,
boneless
Well trimmed
, small eye
Salad oil



20 lb



to lightly
coat


METHOD
1. Using extreme care cut 6 oz portions (full cut).Use sharp knife and portion
scale.Eye must be small or steaks must be too thin.

2. Chill well before cooking.Thinly cut room temperature steaks may cook all the way through before acquiring any outside color. Thinly cut chilled steaks are more apt to color before cooking all the way through.Steaks are never cooked well done except by request.Keep rare if possible.

3. Place lightly oiled or buttered steaks in pan or on hot griddle.Brown on one side ,turn and brown on the other side.Thin steaks particularly should be cooked to order.Steaks may be sauteed or pan broiled Broiling is usually reserved for thicker steaks.

4 . Serve plain, with chopped parsley.au beurre or white maitre d'hotel butter.
Summary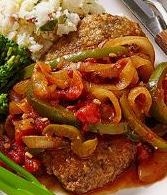 Article Name
Description
A beef recipe should be tasty and juicy and it should be healthy and full of aroma
Author
Publisher Name
Publisher Logo