Marinara Sauce is an easy to make tomato sauce that is perfect to top your favorite pasta or to use in recipes calling for jarred pasta sauce.
A simple base of tomatoes (whole and crushed) with onions and garlic makes the best marinara sauce. This simple sauce takes less than 30 minutes and keeps for 5 days in the fridge and freezes well!
Once you start making this quick homemade tomato sauce, you'll never buy jarred pasta sauce again!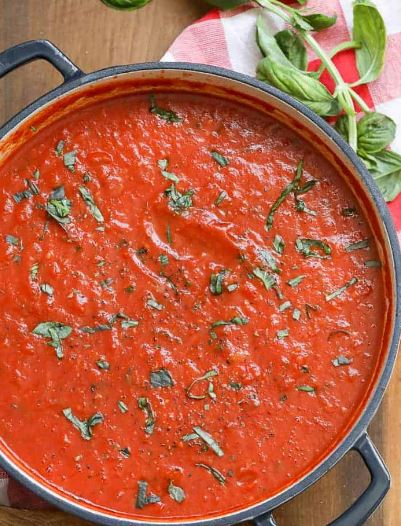 Homemade Marinara Sauce is incredibly easy to make! Juicy tomatoes are simmered with fresh herbs and aromatics to give you the best marinara sauce in just minutes.
WHAT IS MARINARA SAUCE?
Marinara Sauce is a simple tomato sauce with very few ingredients. Generally tomatoes, aromatics (onion/garlic) and some seasonings. It is amazing on pasta, served as a dipping sauce, or perfect replacement for jarred sauces in your recipes (we always use it in place of spaghetti sauce)!
You may be wondering, what is the difference between spaghetti sauce and marinara? The difference between the two is that marinara is simply tomatoes and seasonings while spaghetti sauce contains more ingredients such as meat or other vegetables.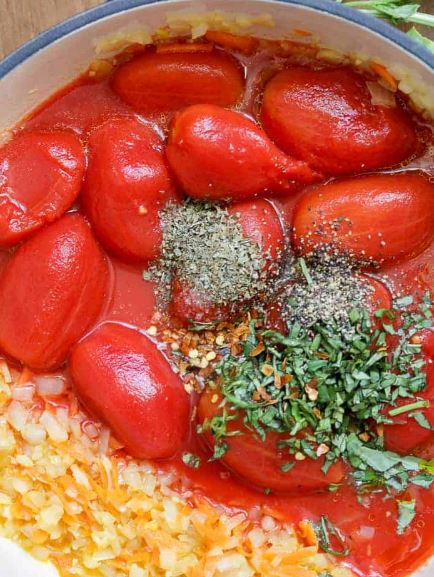 Tomatoes can be acidic (depending on the brand) and sometimes tart and adding shredded carrot to this recipe adds sweetness and replaces most of the sugar. Depending on what brand of tomatoes you use, you may need to add a little more or less sugar to your marinara sauce to help cut some of the acidity. If you'd prefer, you can add a bit of sugar and skip the carrot.
You can use fresh as well as canned tomatoes.Be sure to peel your tomatoes first.Whole tomatoes, squished by hand or by spoon have the best consistency.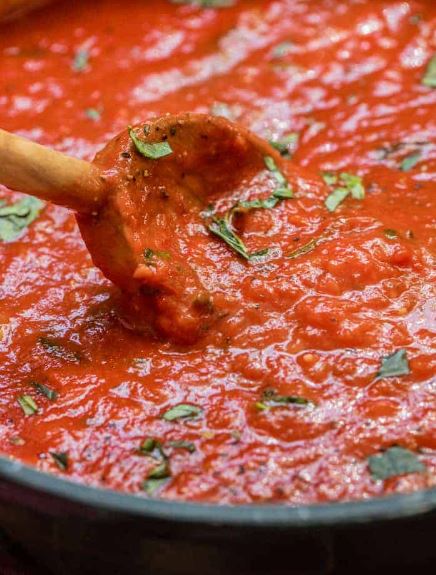 HOW TO MAKE MARINARA SAUCE
Marinara sauce is a flavorful and surprisingly easy dish to make in just 30 minutes!
Finely dice onions and shred carrots and soften in a pan.
Add your tomatoes and use a wooden spoon to gently break them apart.
Simmer your marinara sauce for about 20 minutes, or until it is your desired consistency.
You want to make sure that your sauce is a little thinner if it is being used as a pasta sauce, as opposed to a little thicker if you are using it on a pizza or as a dip.
To store your marinara sauce, it will last about 5-7 days in the fridge in an airtight container. Alternatively, you can freeze it in single serving sizes for up to a year, and just defrost as needed!v
Easy Marinara Sauce
AUTHOR Zeeshan
Marinara Sauce is an easy to make tomato sauce that is perfect to top your favorite pasta or to use in recipes calling for jarred pasta sauce.
Ingredients
3 tablespoons olive oil
1 cup onion finely diced
1/3 cup carrot shredded
3 garlic cloves minced
1/4 cup fresh basil chopped
1/2 teaspoon dried oregano
salt and pepper
28 oz whole tomatoes canned
28 oz crushed tomatoes canned
2 tablespoons tomato paste
1-2 teaspoons sugar (optional)
1/2 cup water
Instructions
In a large pot, heat olive oil over medium heat. Add onion, carrot and garlic. Cook until soft, about 5 minutes.
Add whole tomatoes (with juice) and gently break apart with the spoon. Stir in remaining ingredients.
Simmer uncovered on low heat for 20 minutes or until sauce reaches desired consistency.
Serve over spaghetti or enjoy in your favorite recipes. Freeze or refrigerate to store.
Recipe Notes
Sugar may be required depending on the brand of tomatoes you purchase.
NUTRITION INFORMATION Calories: 112, Fat: 5 g, Sodium: 310 mg, Potassium: 568 mg, Carbohydrates: 15 g, Fiber: 3 g, Sugar: 8 g, Protein: 2 g, Vitamin A: 1320%, Vitamin C: 21.5%, Calcium: 76%, Iron: 2.5%
(Nutrition information provided is an estimate and will vary based on cooking methods and brands of ingredients used.)