This Delicious Coconut Curry Chicken Is Flavorful And Filled With Potatoes, Carrots And Spices. Serve It With Any Kind Of Rice Or Bread And You'll Have Made The Perfect Chicken Curry Meal.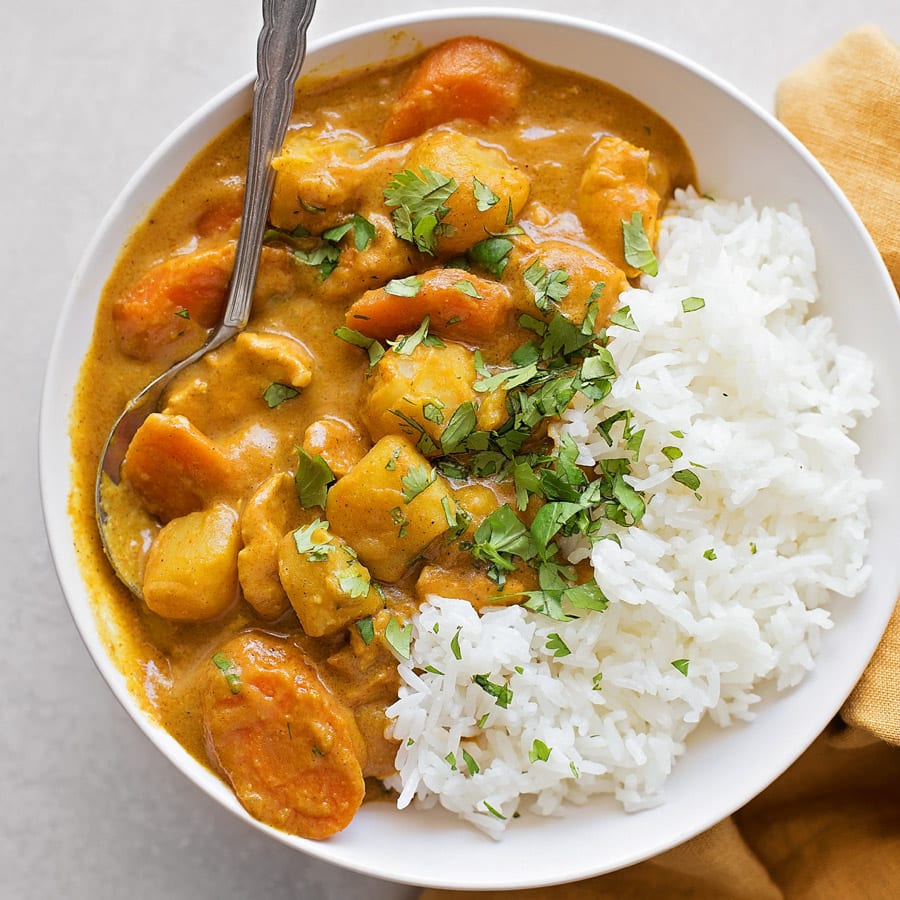 COCONUT CURRY
What to change up the flavors?
This particular yellow curry includes potatoes, carrots and chicken. But you can add whatever veggies you want. What other vegetables go with coconut curry? We like…
Cauliflower
squash
sweet potato
celery root
HOW TO MAKE THAI COCONUT CURRY + COCONUT CURRY SAUCE
Making curry chicken is simple! Sauté the onion and garlic until fragrant, cook the chicken until browned, then stir in potatoes and carrots.
Sprinkle the seasonings over top and add the red curry past along with the yellow curry powder.
COCONUT CURRY TIP: Toasting the seasonings will help develop the flavors in the curry.You wouldn't believe what a difference it makes!
Pour in the coconut milk (full-fat is recommended) along with the chicken broth (or vegetable broth if you plan on keeping things vegetarian), brown sugar, and fish sauce. Yes, I said fish sauce. A teaspoon gives this coconut curry sauce depth without being detectible, or even worse, overwhelming!
Let the curry simmer for 20 minutes or until it thickens up and the vegetables and chicken are cooked through.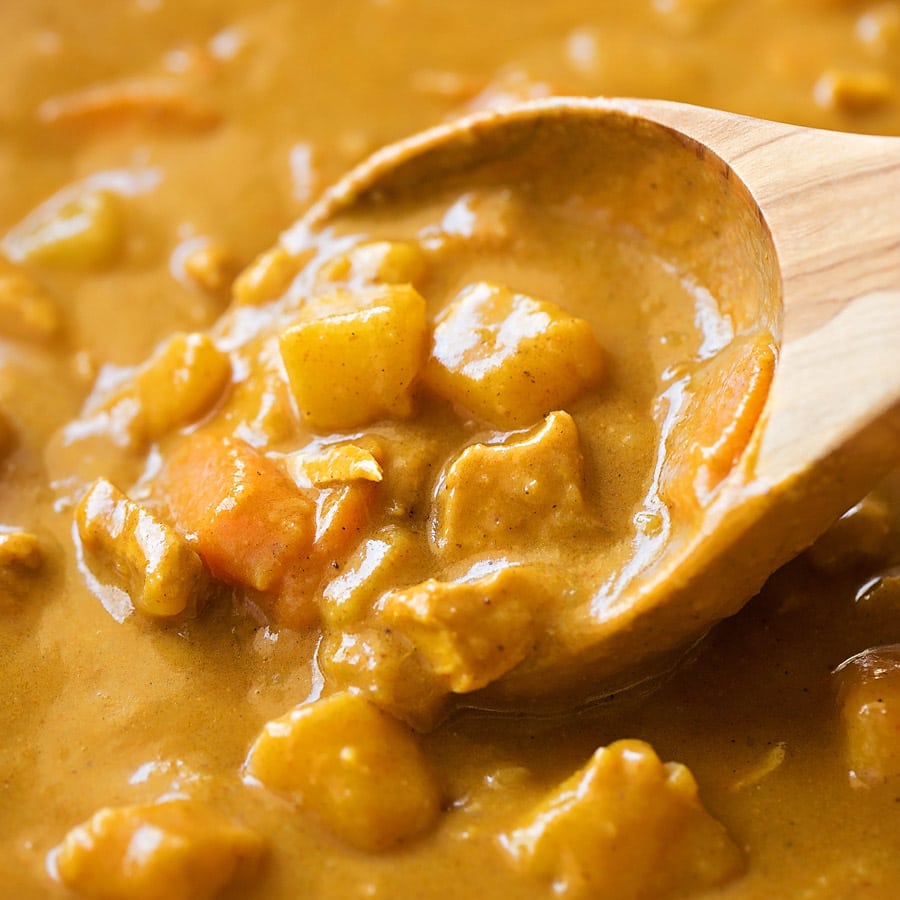 Serve this curry over rice. White rice or brown rice works well with this dish.
Do you have to use full-fat coconut milk for this recipe? That's what I suggest – it really adds so much flavor to the coconut curry sauce!
How to reheat coconut curry? Store in airtight containers and place in fridge for up to 3 days. To reheat, cook in a saucepan or wok on medium heat until heated through. You can also microwave until heated through.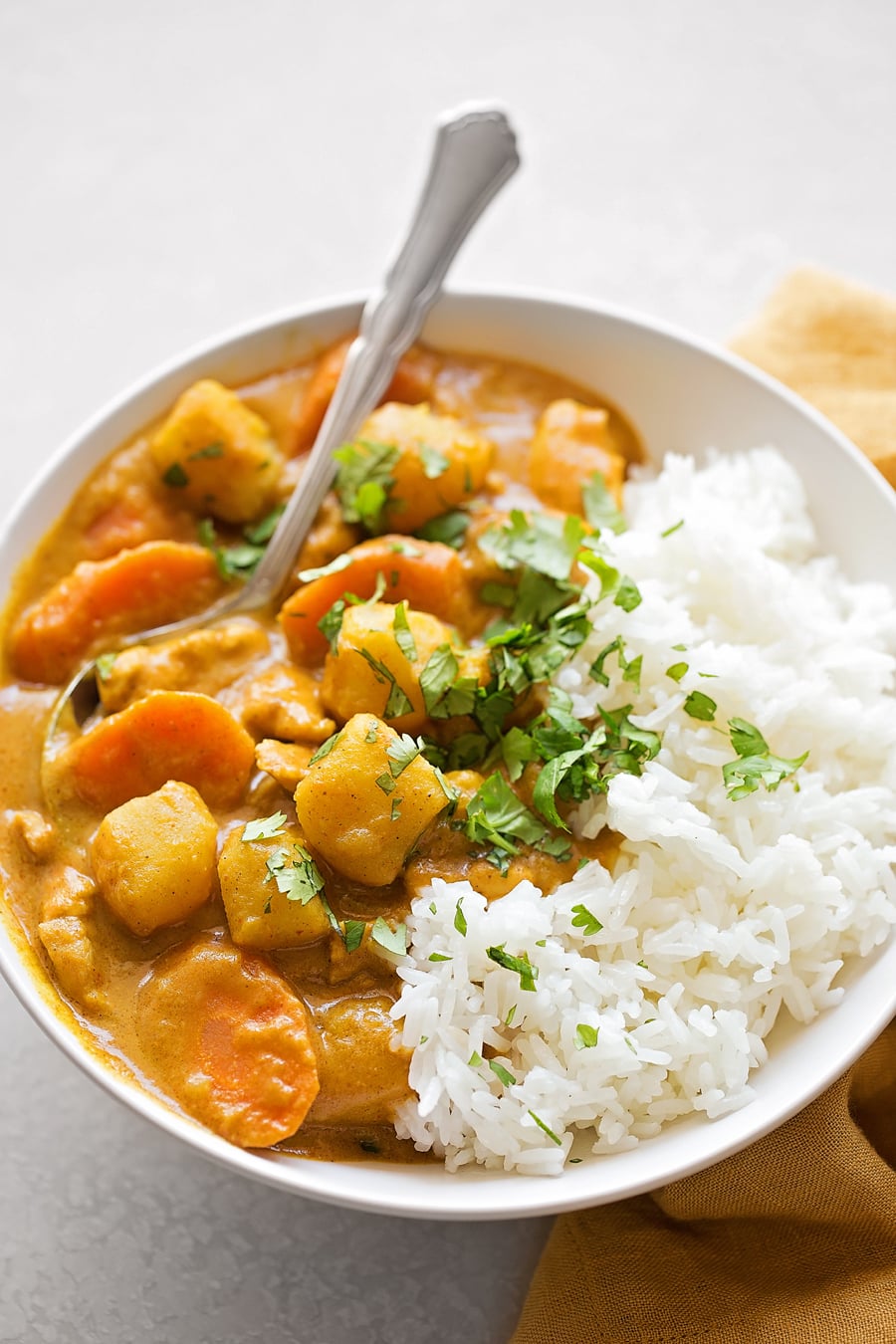 BEST SIDES FOR CHICKEN CURRY
Most veggies, rice and noodles are great with this chicken curry recipe, but other favorites include:
I love this chicken curry recipe because it's simple, delicious and a meal the entire family enjoys. It's a quick dinner recipe that requires minimal prep (always a win in my book)! Any leftovers reheat really well the next day, just add a few tablespoons of water to each serving to help thin it out.
Curry Chicken Recipe
This delicious Coconut Curry Chicken is flavorful and filled with potatoes, carrots and spices. Serve it with any kind of rice or bread and you'll have made the perfect chicken curry meal.
Ingredients
1 tbsp. oil
1/2 yellow onion, diced
2 cloves garlic minced
1 lb. chicken breasts cut into 1-inch cubes
3 carrots cut into 1/4-inch slices
2 russet potatoes peeled and cut into 1-inch cubes
3 tbsp. yellow curry powder
1 1/2 tbsp. red curry paste
1 14 oz. can full-fat coconut milk
3 c. low-sodium chicken vegetable broth
2 tbsp. brown sugar coconut sugar
1 tsp. fish sauce
Instructions
In a large skillet set over medium heat, add oil. Once the oil is hot, add the onion and cook for 2 minutes. Add garlic and cook for 30 seconds.
Add chicken and brown, about 3 minutes per side. Add carrots and potatoes, cook until lightly browned. Stir in curry powder and curry pastes. Cook for 1 minute or until fragrant.
Whisk in coconut milk, broth, sugar, and fish sauce. Gently simmer (covered or uncovered) for 20 minutes or until potatoes and carrots are cooked through.
Remove from heat and serve with rice and garnish with cilantro, if desired.
Recipe Notes
– Swap the chicken for 1 can of drained chickpeas, for a vegetarian curry.
– Add chopped roasted cashews or peanuts for added protein and crunch.
Nutrition Information
Amount Per Serving Calories 286, Calories from Fat 63%,Daily Value*Fat 7g 11% Saturated Fat 1g 6% ,Cholesterol 64mg 21%
Sodium 186 mg 8% Potassium 822mg 23% Carbohydrates 27g 9%
Fiber 4g 17% Sugar 7g 8% Protein 28g 56% Vitamin A 5765IU 115%
Vitamin C 8mg 10% Calcium 84mg 8% Iron 4.1mg 23%
* Percent Daily Values are based on a 2000 calorie diet
Summary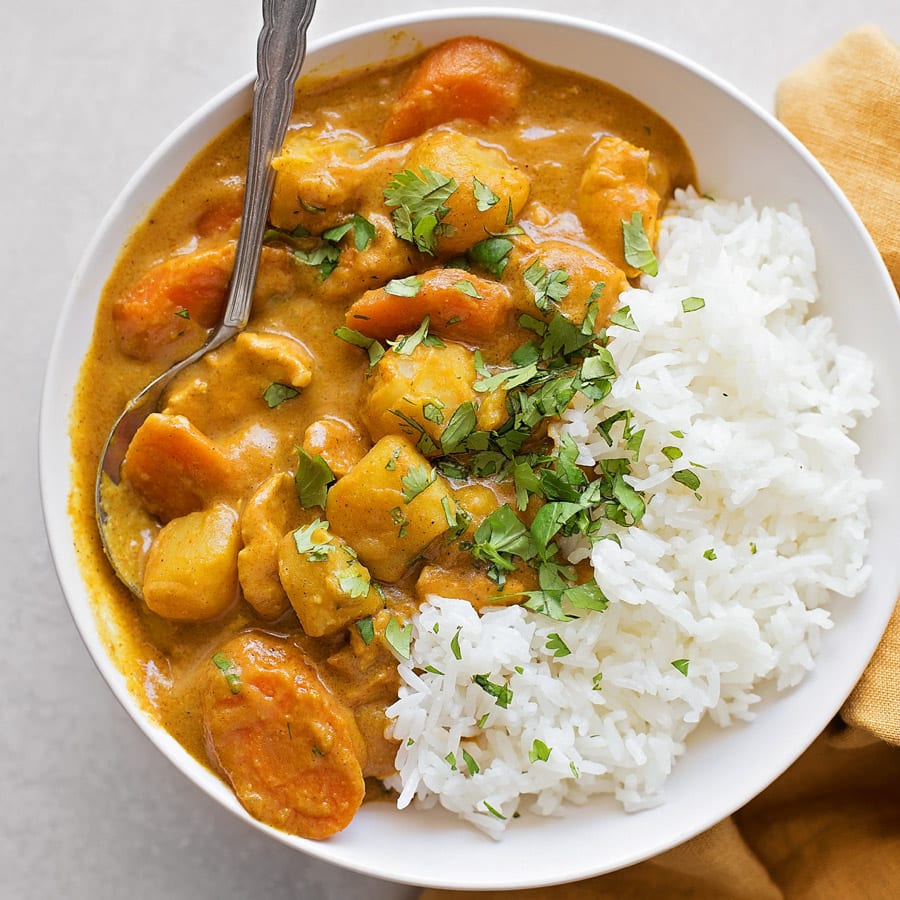 Article Name
Description
This Delicious Coconut Curry Chicken Is Flavorful And Filled With Potatoes, Carrots And Spices. Serve It With Any Kind Of Rice Or Bread And You'll Have Made The Perfect Chicken Curry Meal.
Author
Publisher Name
Publisher Logo