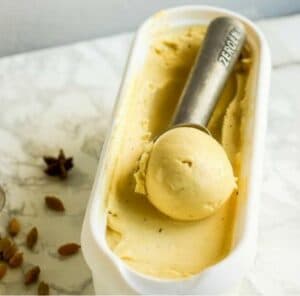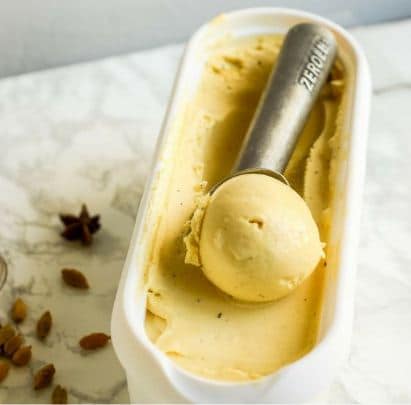 Ingredients,Quantities And Methods To Prepare Custard Ice Recipe
The ingredients,quantities and methods to prepare Custard Ice cream by following this excellent recipe.
Ingredients And Quantities To Prepare Custard Ice Recipe
Cooking Time : 15 minutes Serves 6
Egg yolks 2 or 2 in American
(2) Single light cream 300 ml/½ pint or 1¼ cups in American
(3) Caster sugar 50 g/2 oz or 1/4 cup in American
(4) Vanilla pod bean 1 or 1 in American
(5) Double (heavy) cream. 300 ml /½ pint or 1¼ cups in American
Method To Prepare This Ice Cream
Blend the egg yolks, single (light) cream and sugar in a large heatproof bowl, add the vanilla pod (bean).Stand the bowl over the pan of hot , but not boiling, water and stir until the mixture coats the back of the wooden spoon. Allow to cool ,cover the bowl so a skin does not form.Remove the vanilla pod.Whip the double (heavy) cream and fold into the cold custard .Freeze the mixture.
Note: This gives a lovely golden colored ice cream..It is particularly good if you posses an electric ice maker that aerates the mixture, as happened when the old fashioned freezing buckets were used.
Variations
Use vanilla essence (extract) instead of vanilla pod.Use milk instead of single cream.
Flavourings For The Ice Creams
The following flavorings can be added to any of the ice cream recipes opposite.Blend approximately 100 to 175 g/4 to 6 oz (4 to 6 squares) melted and cooled chocolate with the other ingredients or add 1 ½ to 2 tablespoons (2 to 3 tbsp) sweetened coffee essence (coffee extract), or blend in approximately 225 ml/8 fl oz (1 cup) fruit puree.
Be adventurous in your choice of fruit
Note: This is a genuine custard ice recipe by which you can make a finger licking good custard ice very easily because it is a very simple recipe which can be followed by anyone.You can make this ice cream and can give it any kind of flavouring as you like and it will prove to be very economical ice cream as compared to the expensive ice creams in the market.
Summary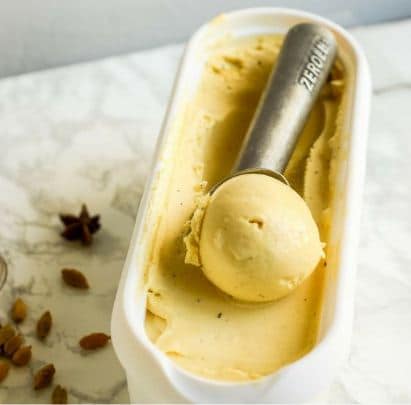 Article Name
Description
This Article will show how to prepare a delicious and healthy custard ice cream by following this genuine custard ice cream recipe
Author
Publisher Name
Publisher Logo