Pork Steak Hawaiian
This pork steak hawaiian is a delicious stake which is prepared by using the best cooking techniques by the combination of pullman ham,pineapple slices and Maraschino cherries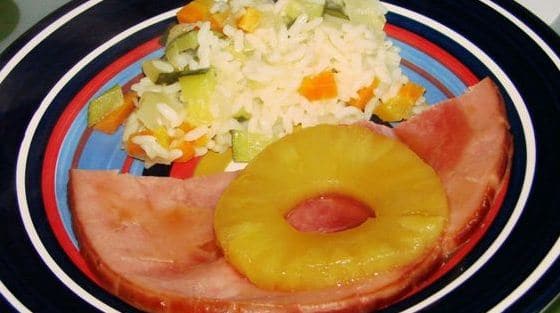 Recipe
Scale : oz=1 ounce      tsp= teaspoon
YIELD : 50 portions      EACH PORTION:  4 oz. ham , 1 pineapple slice
Step One To Prepare Pork Steak Hawaiian
Ingredients 
INGREDIENTS
QUANTITY

Pullman ham
steaks

Salad oil



50


for sheet
pan

Method
1. Place ham steaks on lightly oiled sheet pan .Place under broiler at high point for 3 minutes.Turn ham and repeat process.Remove from broiler and keep hot.
Step Two To Prepare Pork Steak Hawaiian
Ingredients
Butter for sheet pan
(2) Pineapple slices 50
(3) Sugar 8 oz
(4) Cinnamon 1 tsp
Method
2 . Place pineapple slices on buttered sheet pan.Combine sugar and cinnamon; sprinkle over pineapple.Place pineapple under broiler and glaze.

Step Three To Prepare Steak Hawaiian
ingredients
| | |
| --- | --- |
| INGREDIENTS | QUANTITY |
| Maraschino cherries | 50 |
Method
3. Place pineapple slices on ham steak to serve.Place a maraschino cherry in center of pineapple ring.

Roast Loin Of Pork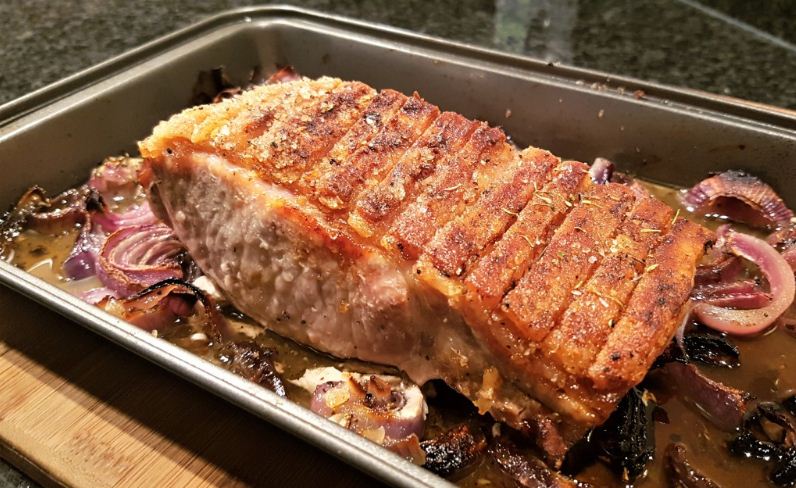 Recipe
Scale lb=pound tsp=teaspoon oz= 1 ounce pt=16 ounce qt=32 ounce
YIELD: 50 portion EACH PORTION: about 6 oz
Step One Roast Loin Of Pork
Ingredients
INGREDIENTS
QUANTITY
Pork loins

Salt

Pepper

Rosemary

Sage


30 lb

to taste

to taste

2 tsp

2 tsp


Method
1. Remove chine bone leaving ribs in.Remove tenderloin for other dishes.Place pork
in greased roasting pan ; rub outside of each loin with salt,pepper, rosemary and sage.

2. Place in oven preheated to 350°F for 1 hour.
Step Two To Prepare Roast Loin Of Pork
Ingredients
INGREDIENTS
QUANTITY
Mirepoix
Onions ,
coarsely
chopped

Celery
coarsely
chopped

Carrots
coarsely
chopped

1 lb



8 oz



8 oz


Method
3. Turn loins , add ,mirepoix ; roast for 1½ hours.When meat is done ,remove from pan
and place in clean storage pan.Cover with clean damp towel and hold in warm place.
Step Three To Prepare Roast Loin Of Pork
Ingredients
INGREDIENTS
QUANTITY
Bread flour

Chicken
or beef stock hot

10 oz

5 qt


Method
4. Pour about 10 oz. fat from roast pan into a sauce pan ; add flour to make roux.Cook
for 10 minutes.,browning lightly.

5. Place pan in which meat was roasted on range and add stock .Scrape bottom of pan
to loosen little brown particles known as fond.Simmer until mirepoix is tender.Strain
and bring to boil again.Carefully skim off fat.

6. Add strained stock to cooked roux, stirring until thick and smooth.Strain again
through fine china cap and adjust seasoning cap and adjust seasoning.Hold for service.

7. Slice meat between ribs and serve with 2 oz ladle of gravy poured around meat


Summary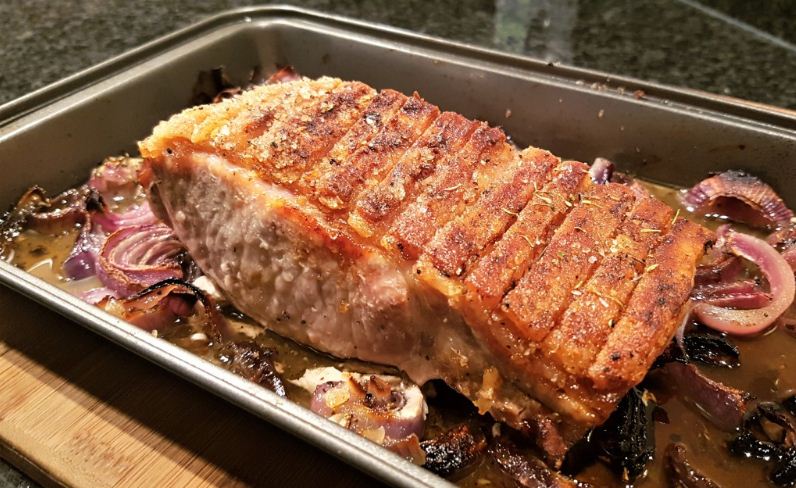 Article Name
HOW TO MAKE EASY AND TASTY PORK DISHES
Description
A good Pork dish should be juicy and full of aroma.These are the qualities that this pork dish will have when you will prepare it.
Author
Publisher Name
Publisher Logo