There is a belief that ice cream is a modern confection; certainly thepopularity of ice cream has increased greatly during the last 30 to 40 years,and modern freezers has made it easy to produce excellent ice cream and other frozen desserts at home. Ices of various kinds have been known for centuries.It is reputed that in thesecond century B.C , Alexander the great was given an iced dessert made by mixing crushed fruit, honey and snow.It was Marco polo who brought the true ice cream recipe to Europe.Ice cream has been produced in England since the time of the ill fated Charles 1 in the 17th Century , but was was enjoyed only by the wealthy.The gargantuan Victorian banquets frequently included ice cream and a sorbet which would be offered half way through the meal to refresh the appetite.Ice creams made with cream and fresh fruits are some of the most delectable of desserts.Sorbets and water ices , which can be served during the meals or desserts, are wonderfully refreshing.
RICH VANILLA ICE CREAM
No cooking Serves 6-8
(1) Double heavy cream 300 ml/½ pint or 1¼ cups
(2) Single light cream 300 ml/½ pint or 1¼ cups
(3) Icing confectioners sugar sifted 75 g/3 oz or 2/3 cups
(4) vanilla essence (extract) to taste or taste
METHOD
Whip the double heavy cream until it holds its shape, then gradually whisk in the single light cream.Fold in the sugar and vanilla essence (extract). Freeze until just firm.This ice cream needs to be brought out of the freezer 20 minutes before the meal and put into the refrigerator.It is an excellent basis for fruit ice cream.
VARIATIONS
Fluffy Vanilla Ice Cream: Whip the double cream with the vanilla essence until it holds its shape, then gradually whisk in 150 ml/ ¼ pint(2/3 cup) single cream.Whisk 3 egg whites until stiff, gradually whisk 50 g/2 oz(scant 1/2 cup) sifted icing sugar.Foldinto the cream and freeze.
Golden Vanilla Ice Cream
Beat 3 eggs with the sugar and vanilla essence until thick andcreamy.Whip the double cream until it holds its shape, then gradually whisk in 150 ml/ ¼ pint (2/3) single cream.Fold in the fluffy egg mixture and freeze.
OLD FASHIONED CUSTARD ICE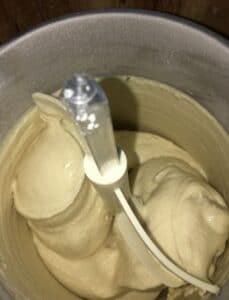 Cooking Time : 15 minutes Serves 6
This gives a lovely golden colored ice cream..It is particularly good if you posses an electric ice maker that aerates the mixture, as happened whenthe old fashioned freezing buckets are
used
INGREDIENTS
Egg yolks 2 or 2 in American
(2) Single light cream 300 ml/½ pint or 1¼ cups
(3) Caster sugar 50 g/2 oz or 1/4 cup
(4) Vanilla pod bean 1 or 1 in American
(5) Double (heavy) cream. 300 ml/½ pint or 1¼ cups.
METHOD
Blend the egg yolks, single (light) cream and sugar in a large heatproof bowl, add the vanilla pod (bean).Stand the bowl over the pan of hot , but not boiling, water and stir until the mixture coats the back of the wooden spoon. Allow to cool ,cover the bowl so s skin does not form.Remove the vanilla pod.Whip the double (heavy) cream and fold into the cold custard .Freeze the mixture.
VARIATIONS:
Use vanilla essence (extract) instead of vanilla pod.Use milk instead of single
cream.
FLAVORINGS FOR ICE CREAMS
The following flavorings can be added t any of the ice cream recipes opposite.Blend approximately 100 to 175 g/4 to 6 oz (4 to 6 squares) melted and cooled chocolate with the other ingredients or add 1 ½ to 2 tablespoons (2 to 3 tbsp) sweetened coffee essence (coffee extract), or blend in approximately 225 ml/8 fl oz (1 cup) fruit puree. Be adventurous in your choice of fruit,
CARAMEL AND NUT ICE CREAM
This is based on old fashioned custard ice .Put 75 g/3 oz (6 tbsp) caster sugar and 3 tablespoons (4 tbsp) water onto a strong saucepan.Stir until the sugar has dissolved then allow to boil,without stirring, until a golden brown caramel.Cool in the pan. Add the 300 ml/ ½pint (1 ¼ cups) single light cream and stir until the caramel and cream are blended.Make the custard as the recipe with the caramel flavored cream and proceed as before,but add 50 g/2 oz ( ½ cup) coarsely chopped nuts to the mixture before freezing.Decorate with whole nuts.
BROWN BREAD ICE CREAM:
Crisp 100 g/4 oz (2 cups) fine brown or wheatmeal or wholemeal breadcrumbs, cool then blend with either of the basic ice creams on page left.A little brandy or rum could be added.Freeze until firm.
LEMON AND HONEY FANTASY
No cooking Serves 4
Whipping or double heavy cream  450 ml/¾ pint or scant 2 cups
(2) egg yolks 4 or 4 in American
(3) Grated lemon rind 1 teaspoon or 1 teaspoon in American
(4) Thin honey warmed 2 tbsp or 3 tbsp
(5) Milk 150 ml/¼ pint or 2/3 cup
(6) Lemon juice 4 tbsp or 5 tbsp in American
(7) To decorate:
Grated lemon rind 2 teaspoon or 2 teaspoon
METHOD
Whip 150 ml/ ¼  pint ( 2/3 cup) of the cream until it just holds its shape.Cover and chill.Beat the egg yolks in a heat proof basin (bowl) until thick and light. Add the lemon rind and honey, beat again then pour on the remaining cream and milk.Stand the basin over hot , but not boiling water and whisk or stir until the mixture forms a thick coating custard. Allow to cool ;stir from time to time to prevent a skin forming. Divide the lemon juice between 4 glasses, add the creamy honey custard.Top with the chilled whipped cream and extra grated lemon rind.
SWEET FANTASY
No cooking Serves 6-8
This name, or rather similar ones , occurs quite often in old recipes for creamy desserts.The interesting and unusual of this light gateau is that hard boiled (hard cooked) egg yolks are used as a sweet decoration. The left over egg whites can be chopped and added to sauces, sandwich fillings or salads
INGREDIENTS
Light sponge (recipe is given below) 3 eggs or 3 eggs in American
(2) For the filling and topping :
Double heavy cream 300 ml/½ pint or 1¼ cups
(3) Sweet white wine 150 ml/¼ pint or 2/3 cup
(4) Raspberry jam 2-3 tbsp or 3-4 tbsp
(5) For the decoration :
Butter 25 g/1 oz or 2 tbsp
(6) Icing confectioners sugar 75 g/3 oz or 2/3 cups
(7) Sweet white wine 1/2 tbsp or 1/2 tbsp in American
(8)Eggs hard boiled (hard-cooked) 3 or 3 in American
METHOD
Allow the sponge halves to become quite cold.Whip the cream for the filling and topping.Put the bottom layer of sponge on to a serving dish, moisten with half the wine.Spread with the jam and half of the whipped cream.Top with the second layer of sponge; moisten this with remaining wine and top with the whipped cream. Beat the butter and sugar until soft and light.Gradually beat in the half tablespoon wine,then add the egg yolks.Do not over handle at this stage-the mixture should be crumbly.Rub the egg yolk mixture through a coarse meshed sieve over the top
of the gateau, making tiny golden balls.Chill
well before serving