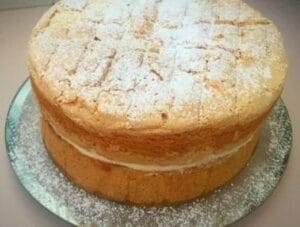 Cooking Time: 12-15 minutes Makes 1 sponge
The light delicate type of sponge has always been a favorite .It is an excellent basis for tea time or it can be filled with jam or fruit and cream.Modern electric mixers make it very easy to whisk the eggs and sugar until light
INGREDIENTS
(1) Large eggs 3 or 3 in American
(2) Caster sugar 100 g/4 oz or 1/2 cup in American
(3) Flour (see method) 75 g/3 oz or 3/4 cup in American
(4)For the filling: Jam or see method 3-4 tbsp or 4-5 cups in American
(5)For the topping : Caster sugar 1 tbsp or 1 tbsp in American
METHOD
Grease and flour or line two 19 to 20 cm/7 ½ to 8 inch sandwich tins (layer cake pans) with greased greaseproof (waxed) proof.Put the eggs and sugar into bowl and whisk until thick and creamy.
Sift the flour at least once; plain(all purpose) flour can be used as the egg mixture is so aerated, but self raising flour ensures a good rise to the sponge.Fold the flour into the egg mixture very carefully and gently.
Spoon into the prepared tins.Bake just above the center of a moderate to moderately hot oven, 190°C/375°F Gas mark 5, for 12 to 15 minutes or until firm to a gentle touch.Cool for a few minutes in the tins, then turn out and allow to cool. Sandwich together with jam, or as suggested above.Top with the sugar.
VARIATION
Melt 25 g/ 1 oz (2 tbsp) butter, fold into the
mixture with the flour.