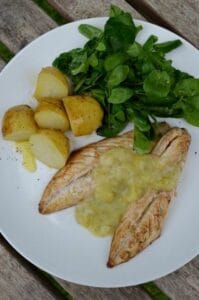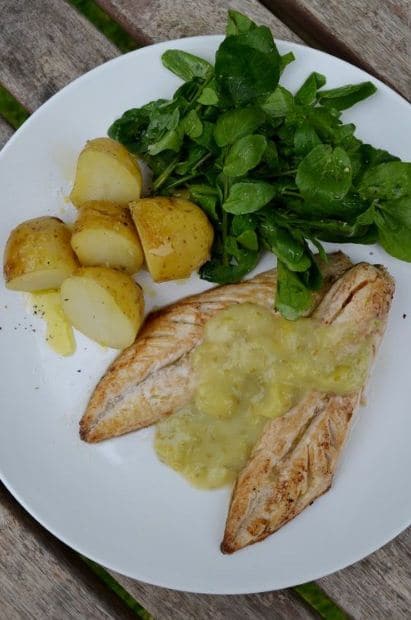 Cooking e 15 minutes  Serves 4
INGREDIENTS AND QUANTITY
(1) Mackerel 4 or 4 in American
(3) Butter 75 g/3 oz or 6 tbsp in American.
(4) Salt and pepper to taste or to taste in American.
(5)For the sauce:
gooseberries  450 g/1 lb or 1 lb in American
(6) Sugar 50 g/2 oz or 1/4 cup in American
(7) Water 150 ml/¼ pint or 2/3 cup
(8) Butter 25 g/1 oz or 2 tbsp.
(9) Chopped parsley optional 2-3 teaspoon or 2-3 tablespoon in American.
(10)To garnish:
Chopped fennel or parsley.
METHOD
Wash the mackerel remove the heads,spit and take out the bones ,Sprinkle the fish with butter.Melt the remaining butter.Fold the fish back into shape,brush with the melted butter.Grill (broil) steadily for 10 to 15 minutes depending upon the size of the fish.
There is no need to top and tail clean the gooseberries if sieving the sauce but this must be done if you intend to put the cooked fruit into a liquidizer(blender) or beat it to make a puree.Simmer the gooseberries with sugar and water until just soft.Either beat until smooth or sieve or liquidize and reheat with the butter.The chopped parsley is the pleasant addition to the sauce,but is not necessary.Dish up the fish,garnish with the parsley and serve with the gooseberry sauce.
VARIATIONS:
The mackerel can be cooked without boning.Simply brush with lightly seasoned melted butter and grill (broil).
When gooseberries are out of season,use cooking apples instead.