Cherry cobbler is a super easy and tasty sweet dish which comprises of self raising flour,cherries,butter or margarine and milk.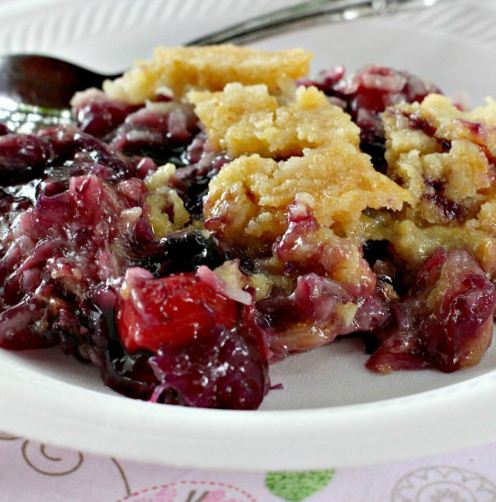 Recipe Of cherry Cobbler
Ingredients
Cooking time : 30 -35 minutes Serves 4
(1) For the fruit mixture
Cherries 450-675 g/1-1½ lb or 1-1½ lb in American
(2) water 3 tbsp or 4 tbsp in American
(3) Sugar 75 g/3 oz or 6 tbsp in American
(4) For the cobbler:
Self raising flour 175 g/6 oz or 1½ cups in American
(5) Butter or margarine 40 g/1½ oz or 3 tbsp in American
(6) sugar 50 g/2 oz or 1/4 cup in American
(7) Milk to bind or to bind in American
(8) To glaze :
Milk 1 tbsp or 1 tbsp in American
(9) Sugar 25 g/1 oz or 2 tbsp in American
Method
or plain (all purpose) flour with 1 ½ teaspoons baking powder.
Put the cherries into the pie dish with the water and sugar.Put a piece of foil or grease proof (waxed) paper over the fruit so it does not dry.Cook in the center of a moderate oven , 180° C/350° F Gas mark 4,for approximately 15 minutes..
Sift the flour into a bowl. Rub in the butter or margarine until the mixture looks like fine breadcrumbs.Add the sugar and enough milk to bind to a soft rolling consistency. Roll out until about 1.5 cm/ ½ inch thick. Cut into small rounds and brush these with milk;sprinkle with the sugar.Place them on top of the hot half cooked fruit .Raise the oven heat to hot,220°C/425 °F Gas mark 7,put the cobbler in the center of the oven and cook for approximately 15 to 20 minutes.Serve hot with cream.
Variation In The Preparation Of Cherry Cobbler
Most other fruits can be used to make this simple pudding.If using soft fruit,such as redcurrants,.Just add sugar and precook for about 10 minutes.
Note:
Ingredients plays a vital role in making the dish healthy and delicious.Although combination of the ingredients in a dessert are very important in making the flavor but also the methods and techniques in preparing the dessert also have its own significance and the right combination of ingredients and the best techniques to prepare the dessert comes from a genuine recipe from a professional chef.