CAESAR SALAD
YIELDS : 50 portions  
scale : oz= 1 ounce pt = 16 ounce qt= 32 ounce ea=each serving
1 gallon= 3.78 liter tsp=teaspoon tbsp=tablespoon
STEP ONE
INGREDIENTS
QUANTITY
Romaine
Garlic chopped
Salad oil
Bread cubed
6 lb
2 tbsp
12 oz
12 oz
METHOD
1. Wash romaine carefully and cut or break into bite size pieces.Drain as dry as possible
2. Saute garlic in oil until light brown.Strain and discard garlic.
3. Saute bread cubes in garlic oil until golden brown.Drain and keep warm.
STEP TWO
INGREDIENTS
QUANTITY
Salad oil
Lemon juice
Salt
Black pepper
1 ¼ qts
12 oz
1 ½ tbsp
½ tbsp

METHOD
4. Make basic french dressing with with oil , lemon juice ,salt and pepper.Add drained oil from anchovies.
STEP THREE
INGREDIENTS
QUANTITY

Eggs
Parmesan cheese
Anchovy fillets
12
4 oz
50
METHOD
5. Place romaine in bowl and add lightly beaten eggs.Toss lightly coating well.Add
Parmesan cheese, tossing lightly again.
6. Arrange portion on chilled salad plate.
7. Dress with 1 oz dressing just before service time.Garnish with croutons and curled
anchovy fillets
MIX GREEN SALAD HERB DRESSING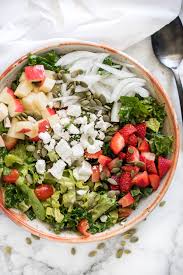 scale : oz= 1 ounce pt = 16 ounce qt= 32 ounce ea=each serving
1 gallon= 3.78 litre tsp=teaspoon tbsp=tablespoon
STEP ONE
INGREDIENTS
QUANTITY
Lettuce
Romaine
Chicory
Escarole
4 heads
3 heads
3 heads
1 head
METHOD
1.Wash and clean all greens.Dry well and crisp in refrigerator .
2. Cut or break in bite size pieces and mix together.Return to refrigerator
STEP TWO
aaaaaaaaaaaaaaa
INGREDIENTS
QUANTITY
Sweet basil
Oregano
White pepper
Garlic minced
French dressing
(see recipe
below)
½ tsp
½ tsp
¼ tsp
¼ tsp
1 qt


METHOD

3. Mix spices and garlic with basic french dressing.Just before service time ,toss salad
lightly with dressing to coat all greens thoroughly.
4. Serve in salad bowl or on chilled salad plate.
FRENCH DRESSING
YIELD: 2 ½ qts
STEP ONE
scale : oz= 1 ounce pt = 16 ounce qt= 32 ounce ea=each serving
1 gallon= 3.78 litre tsp=teaspoon tbsp=tablespoon
INGREDIENTS
QUANTITY
Tomato juice

Salad oil

Lemon juice

Worcestershire
sauce

Liquid hot
pepper
sauce

Garlic
Salt pulverized

Egg whole

Vinegar cider
2 qt

8 oz

4 oz

3 tbsp



¼ tsp


½ clove
to taste

1

2 ¾ oz
METHOD
1. Place egg in bowl ,beat well while adding all other ingredients.
2.Shake well before serving
CHINESE CABBAGE SALAD
YIELD: 50 portions        EACH PORTION : about 3 oz   
scale : oz= 1 ounce pt = 16 ounce qt= 32 ounce ea=each serving
1 gallon= 3.78 litre tsp=teaspoon tbsp=tablespoon
STEP ONE
| | |
| --- | --- |
| INGREDIENTS | QUANTITY |
| Chinese cabbage | 9 lb |
METHOD
1. Split , wash and clean Chinese cabbage.
2. Shred in ¼ inch slices and cut cross wise.
3. Arrange on chilled salad plate.

STEP TWO
INGREDIENTS
QUANTITY
Scallions chopped
French dressing
(see recipe
below)
3 bunches
1 ½ qt


METHOD
4.Garnish with chopped scallions ,including green portion.Serve with french dressing.
CHEFS SALAD WITH JULIENNE OF TURKEY , HAM AND SWISS CHEESE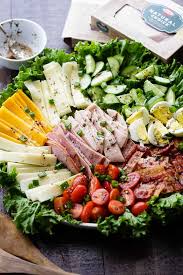 YIELD: 1 portion   
STEP ONE
INGREDIENTS
QUANTITY
Mixed green
(escarole , romaine
chicory),chopped

Turkey white meat
julienne

Swiss cheese julienne
Tomato wedges or
slices
1 pt



¾ oz


3/4 oz

4
METHOD
1. Place mixed greens in salad bowl.
2. Arrange julienne meat, cheese and tomato wedges over greens.
STEP TWO
INGREDIENTS
QUANTITY
Blue cheese
crumbled

Watercress

French dressing
1 oz


1 spray

2 oz
METHOD
3. Sprinkle with blue cheese.Place generous bouquet of watercress in centre of salad.
4. Serve french dressing in sauce boat on side.
DEVILED EGG SALAD
INGREDIENTS
QUANTITY
Hard cooked
eggs

Mustard dry

Worcestershire
sauce

Salt

Mayonnaise (see
recipe below)

50

1 tbsp

1 tsp


½ tsp


12 oz

METHOD
1. Chill and peel eggs.Slice in half lengthwise and remove yolks.Mash or put through
sieve, combine with all ingredients except lettuce.
2. Mix to smooth paste stiff enough to hold shape when used with pastry bag.Adjust seasoning and consistency.With pastry bag and large star tube ,fill cavity of whites of
eggs with egg yolk mixture
STEP TWO
INGREDIENTS
QUANTITY
Lettuce washed
cleaned
and trimmed
Parsley
4 heads


for garnish
METHOD
3. For each portion arrange 2 halves on lettuce leaf and garnish with parsley sprig
IRVIN COBBS BROWN DERBY SALAD
INGREDIENTS AND QUANTITY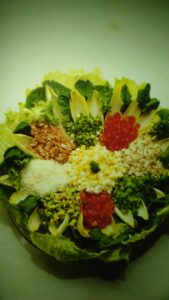 1..On a large serving platter arrange the iceberg lettuce,chicory,endive,cos lettuce and watercress.
2. Add the remaining ingredients except for the dressing indistinct layers , in any order chill for 30 minutes.
3. In front of your guests , add the dressing with the flourish and toss dramatically.
CHINESE PICKLED CABBAGE AND CAULIFLOWER
INGREDIENTS AND QUANTITY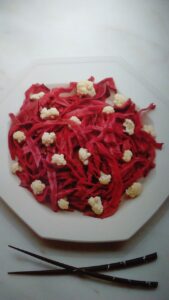 YIELD: Makes 3 pints (1.8 litres)
1 ¾ pints/1 litre water 
3 tablespoon salt 
3 oz/90 gram sugar
2 ½  fl oz/75 ml distilled wine sugar 
 ½ teaspoon whole peppercorns ,szechuan if possible
¾ teaspoon crushed hot red pepper flakes
2 lb/900 gram cabbage ,coarsely shredded
1 lb/450 gram cauliflower in forest
METHOD
(1) Put the water salt ,sugar and vinegar into a 4 pint (2.25 litre) wide mouthed jar.Stir until the sugar an salt are dissolved.Add the peppercorn and red pepper flakes.Stir again.
(2) Add the cabbage and cauliflower in  layers ,pressing each down to the bottom .All of the cabbage and cauliflower should be covered with water.
3. Cover the jar and let stand for 24 hours at room temperature .Put the jar still covered in the refrigerator for 3 to 4 days.
4. Drain the liquid from the jar and serve the cabbage and cauliflower cold.Leftover salad maybe stored in the refrigerator
for a week or more. 
SOM TOM
INGREDIENTS AND QUANTITY
YIELD:6 serving
½ head pak-choi or chard
3 ½ oz/110 gram cucumber ,peeled and cut in strips
3 ½ oz/110 gram cabbage shredded
1 papaya peeled, seeded and sliced
8 oz/225 gram dried shrimps , soaked and drained
2 firm tomatoes ,quartered
2 tablespoons/30 ml fish sauce
1 ½ tablespoons brown sugar
1 tablespoon chopped spring onions
3 tablespoon /45 ml fresh lime juice
2 teaspoons ground black pepper
1 ½ teaspoons cayenne pepper
2 garlic cloves finely chopped
2 tablespoons roasted peanuts
GARNISH
Tomato butterfly garnish (recipe is given below)
METHOD
1. Make a bed of pak choi on a serving platter
2. Arrange the cucumber strips ,cabbage shreds ,papaya slices ,dried shrimps and tomatoes on the pak choi.
3. In a jar with a tightly fitting combine the fish sauce, brown sugar,spring onions,lime or lemon juice.Cover tightly and shake until the sugar dissolves.
4. Add the black pepper ,cayenne pepper and garlic and shake again.
5. Pour the dressing over the salad.
6. Sprinkle the peanuts over the salad and serve.
RADISH ROSES
METHOD
Remove stalk.Cut a row of petal shapes round the radish, keeping them joined at the base.Cut further rows of petal shapes until the top of the radish is reached.Place the radish rose in iced water for several hours until it opens out. 
TOMATO BUTTERFLIES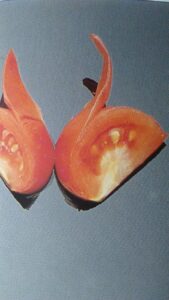 METHOD
Cut a firm tomato evenly into quarters keeping it joined at the base.Carefully separate the skin from the flesh, still keeping the tomato joined at one end.Curl back top ends and arrange it in the form of a butterfly. 
ORANGE AND LEMON TWISTS
METHOD
thinly slice the fruit into rings.Cut from outer edge to center of each slice and twist.
RADISH FANS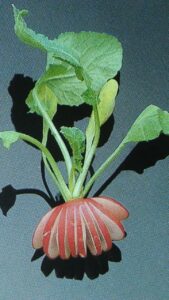 METHOD
Remove base from radish.Slice upwards from base several times.Place in iced water to open out.
TOMATO ROSES
METHOD
Take a firm tomato and remove the skin in a continuous continuous strip about 1 cm (½ inches) wide.With the flesh side outside ,start curling the strip of skin from the base end, forming a bud shape between the fingers.
RADISH LILIES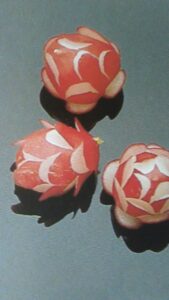 METHOD
Remove the stalk and using a small sharp knife cut through 4 to 6 times, keeping it joined at the base.Place in iced water for several hours until it opens out.