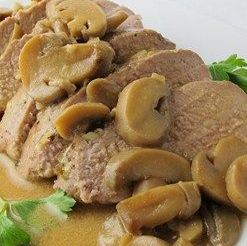 Scale lb=pound oz=1 ounce gallon=3.78 liters pt= 16 ounce
YIELD:50 portions EACH PORTION:about 5 oz,meat and sauce
STEP ONE
INGREDIENTS
QUANTITY
Tenderloin tips, fat
free
17 lb
METHOD
1 . Slice tenderloin tips on the bias.
STEP TWO
INGREDIENTS
QUANTITY


Mushrooms

Shallots

Butter

Brown sauce,hot
(link to brown
sauce recipe is
given below this
recipe)

Burgundy Wine

Red Pepper (julian
cut)


3 lb

1 lb

3 oz

1½ gallons





6 oz

2 pieces

METHOD
2. Wash mushroom and slice thoroughly lifting mushrooms from water rather than pouring water off Fine particles of mushrooms will be avoided and dirt will also remain in bottom of pan.
3. Saute shallots, mushrooms and red pepper in butter and combine with hot brown sauce.Add burgundy wine and adjust seasoning.Simmer slowly while preparing tenderloin tips
STEP THREE
| | |
| --- | --- |
| INGREDIENTS | QUANTITY |
| Salad Oil | 1 pt |
METHOD
4. Heat oil to smoke point and cook tenderloin tips quickly in large frying pan or sautoir.Brown nicely but do not cook well done.
5. Mix cooked tips (draining oil) with mushroom sauce.Bring to boiling point without scorching remove from heat.

STEP FOUR
INGREDIENTS
QUANTITY

Butter melted


Parsley chopped

for toast
points

6 oz
METHOD
6. Serve casseroles.Dip small toast point in melted butter and chopped parsley.Insert toast points deep into casserole parsley end out.Provide both garnish and accompaniment.