Apricot chiffon pie is a delicious dessert which is prepared with ingredients that are readily available in every homes kitchen.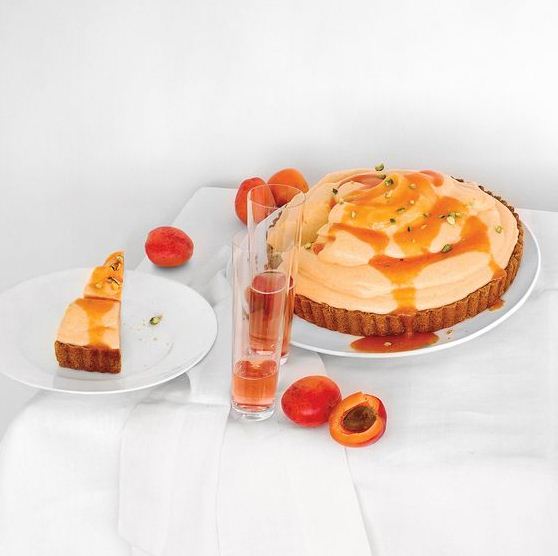 Ingredients To Make This Dessert
Flan case ,baked as left
(2) For the filling :
dried apricots finely chopped 100 g/4 oz or 3/4 American
(3) Water 450 ml/¾ pint or scant 2 cups.in American
(4) lemon juice 1 tbsp or 1 tbsp in American
(5) Caster sugar 175 g/6 oz or 3/4 cup in American
(6) Cornflour (cornstarch) 2 teaspoon or 2 in American teaspoon
(7) eggs 2 or 2 in American
(8) Gelatin 7 g/¼ oz or 1 envelope in American
Method
Soak the apricots in 300 ml / ½ pint ( 1¼ cups) of the water for 3 hours.Pour into a saucepan , add the lemon juice and 100g/ 4 oz (½ cup) sugar.Cover the pan and simmer gently for 40 minutes .Blend the cornflour (cornstarch) with half the remaining water, add to the ingredients in the pan. Stir over a low heat for 5 minutes or until thickened.Cool slightly.
Separate the eggs.Beat the yolks into the hot, but not boiling, apricot mixture then cook very slowly for 4 minutes.Put the remaining water into a small heatproof basin (bowl), sprinkle the gelatin on top.Stand the basin over the pan of very hot water until the gelatin has dissolved.Blend the hot gelatin into the hot apricot mixture.Allow to cool and stiffen very slightly.
Whisk the egg whites until stiff, fold in the remaining sugar then gently blend with cold apricot mixture.Spoon the partially set fluffy apricot mixture into the crisp cold pastry , leave until quite firm.Serve with cream.
Desserts are sweet products that are liked by masses but it must be noted that ingredients plays a vital role in making a dish healthy and delicious. A dessert is a food item which is related to our health so the combination of all the healthy ingredients, the techniques and methods written in this recipe are written by a professionals and everything is tested so I am pretty much sure that you people will enjoy this healthy and delicious dessert.