Tangy, spicy Samosa Chaat! Spicy chole (chickpeas) are served with samosa and dollops of yogurt and chutney.
This popular Indian/Pakistani street food is one of my favorite ways to enjoy samosa!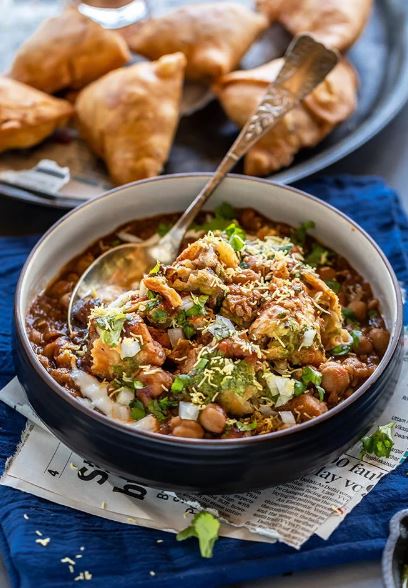 This Samosa Chaat is a another popular Pakistani and Indian chaat where samosa is served with chole (chickpea curry).
Chaat is a broad term used for all Pakistani and Indian street food. It's mostly spicy, tangy and topped with yogurt and chutneys.
With Ramazan and the festive season around the corner, this would make a great party appetizer!
This Samosa Chaat
✓ is bursting with flavors and texture
✓ has layers of chickpea curry and crunchy samosa
✓ is tangy and spicy
✓ pairs up so well with chai!
The samosa chaat is very easy to put together.
However in order to do, you have to make sure that all the components of the chaat are ready and good to go!
Components of Samosa Chaat
Now, this chaat has several components to it. Let's see what these are!
Samosa: of course the main ingredients and star of the recipe here. You can either make homemade samosa or get samosa from stores.
I have used my homemade samosa here but totally okay to get them from store.
Especially if you are serving them at a party and running short on time, the short cuts are more than welcome!
Chole: aka the chickpea curry! For this samosa chaat recipe, I used my favorite chole recipe.
It's literally the best chole and one of my most popular recipes for a good reason.
Yogurt: thick creamy yogurt is an essential ingredients here.
Chutneys: of course no chaat is complete without good chutneys. This recipe calls for cilantro chutney and sweet tamarind chutney.
Extra garnishes: and the chaat is finally topped with sev (fried savory snack), pomegranate arils and cilantro.
It short, it's an explosion of flavors!
This samosa chaat is best served immediately. Once you have layered everything together, just serve it.
I don't like soggy samosa in my chaat. No please!
Method
1- Soak dried chickpeas overnight in 4 cups water. In the morning drain the water, and then rinse the chickpeas.
Transfer the chickpeas to a pressure cooker and then add the whole spices- green cardamom, black peppercorn, bay leaves and cinnamon stick.
Also add black tea bags, water (around 4 to 5 cups) and salt. Please note: the tea bags are for giving the chole a dark color. They do not impart any taste to the final product.
2- Pressure cook on high heat for 2 whistles. After that lower the flame to medium and let the chickpeas cook for another 10 to 12 minutes. Remove the cooker from heat and allow the pressure to release naturally.
You should be able to press the chickpeas easily with your fingers once cooked. Set aside.
If using Instant Pot cook for 30 minutes on high pressure with natural pressure release.
3- Start making the masala. Heat oil in a pan on medium heat. Once the oil is hot, add the grated/pureed onions to it.
4- Cook the onions until the raw smell goes away completely. Then add the ginger-garlic paste and cook for 1 minute.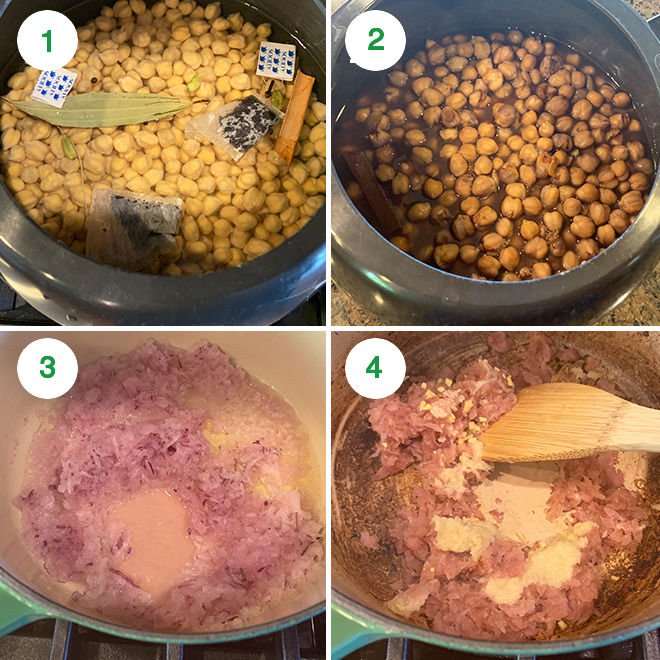 5- Add the pureed tomatoes and mix. Cover and cook the tomatoes for 15 minutes on medium heat, stir once or twice in between. This step is important, so do not rush cooking the tomatoes.
6- Once the tomatoes are cooked, add the chole masala, red chili powder, paprika powder, cumin powder and more salt. Mix and cook the spices for 1 minute.
7- Add the cooked chickpeas into the pan and stir.
8- Cover and let the curry simmer for around 30 minutes on low-medium heat. Again, don't rush the step for best tasting chole. The curry will thicken considerably and that's what we want for the chaat.
The curry is now done. Taste test and adjust salt etc. at this point. Let it simmer while you make the tempering.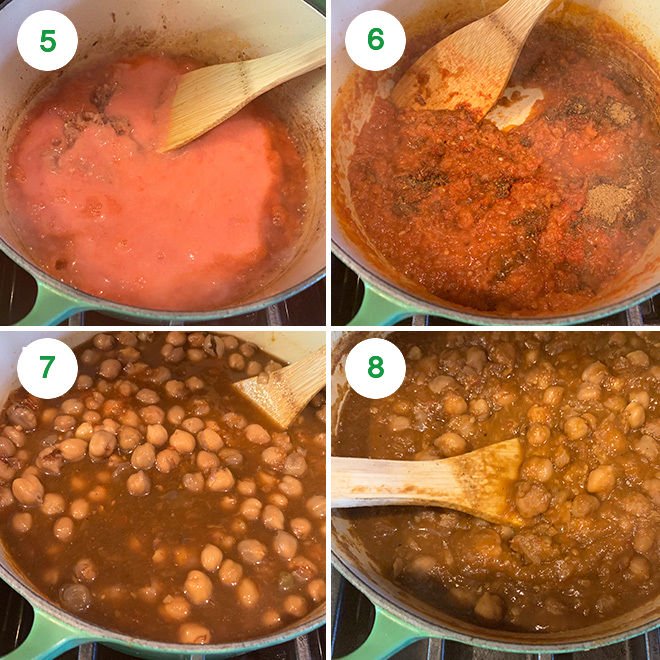 9- For the tempering, heat ghee in a pan on medium heat. Once the ghee is hot, add the ginger julienne to it and fry until it starts turning golden brown in color.
10- Transfer the fried julienne to the curry.
11- Add garam masala and mix.
12- Finally add in the crushed kasuri methi.
Once the chole is ready, gather all other ingredients and start plating the samosa chaat.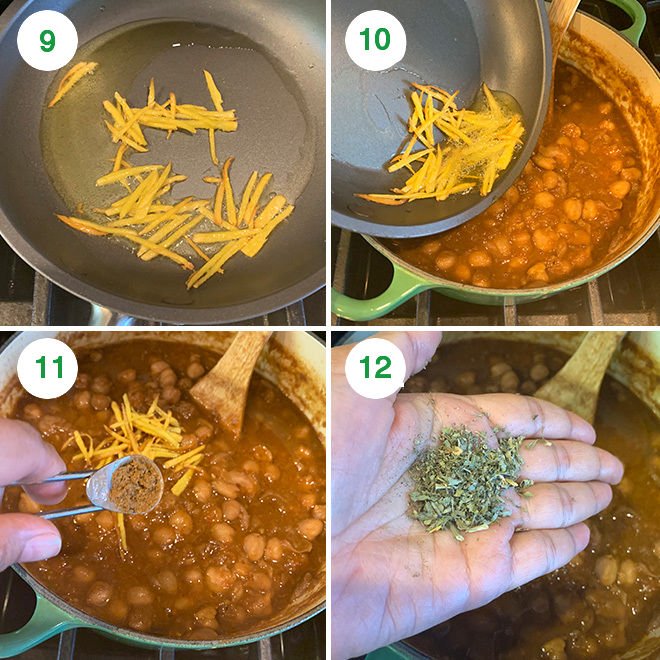 13- To make a plate of samosa chaat, place 1 cup of prepared chole into the serving bowl.
14- Top with dollops of yogurt.
15- Then roughly break 2 samosa and place them on top of yogurt.
16- Top the samosa with more chole, cilantro chutney, sweet tamarind chutney.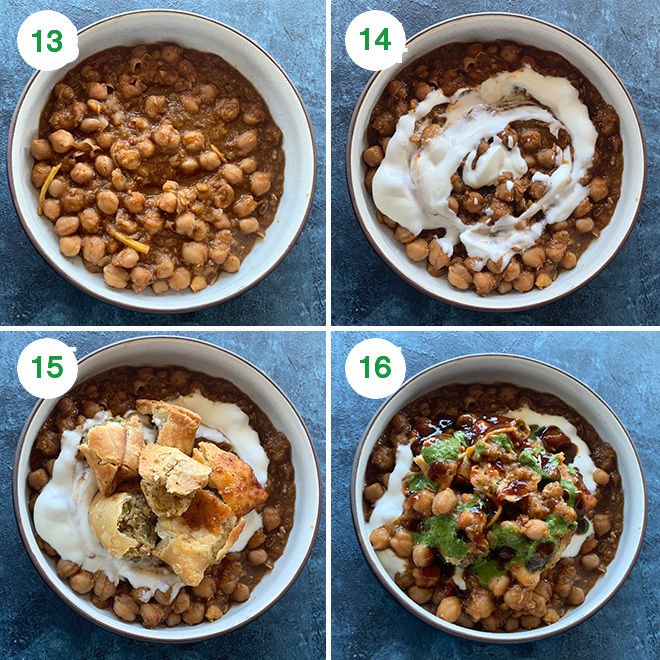 And finally garnish the Samosa Chaat with chopped onion, sev, cilantro, pomegranate arils (if using). Sprinkle chaat masala and serve immediately!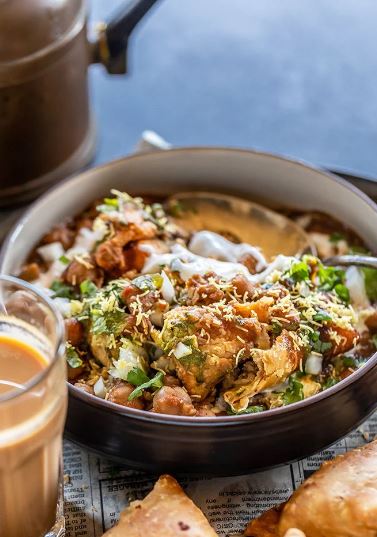 Samosa Chaat
Tangy and spicy Samosa Chaat is popular Pakistani and Indian street food! Crunchy samosa is served with spicy chickpea curry (chole), yogurt and chutneys!
Summary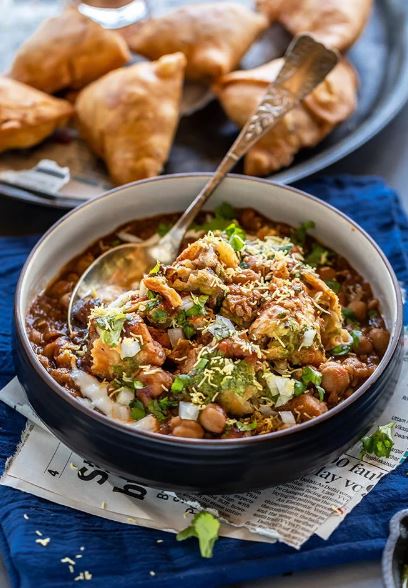 Article Name
Description
Tangy, spicy Samosa Chaat! Spicy chole (chickpeas) are served with samosa and dollops of yogurt and chutney.
Author
Publisher Name
Publisher Logo