Ding Dong Cupcakes are rich, moist and chocolaty stuffed with creamy marshmallow filling and smothered in a silky chocolate ganache! You will never want to buy Ding Dongs from the store again!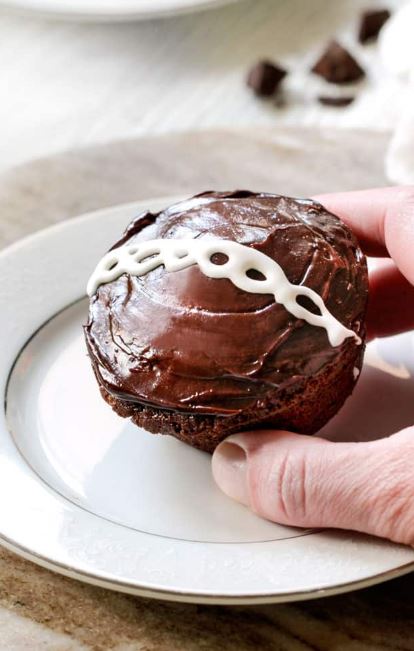 These Ding Dong Cupcakes start with a rich, moist, chocolaty cupcake that is double infused with chocolate from cocoa powder and melted chocolate chips. The cupcakes are so moist that you can't use a pastry bag to pump the filling right into the center (a very good sign). Instead, you cut the center out to make room for your creamy marshmallow filling that is a delectable mixture of marshmallow creme, butter and some gelatin to help it set. You might be tempted to leave out the gelatin but the filling sinks without it – with it, its perfectly creamy, perfectly delicious…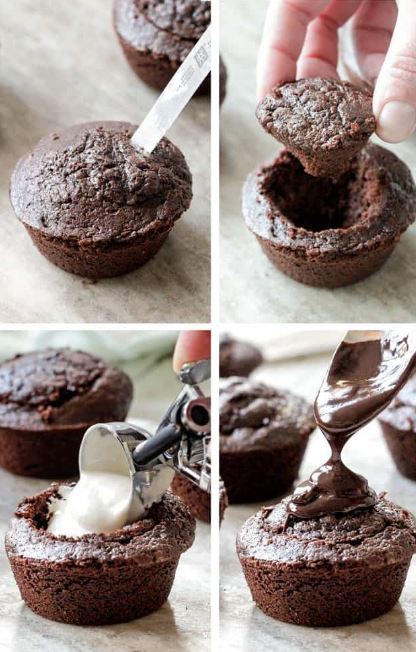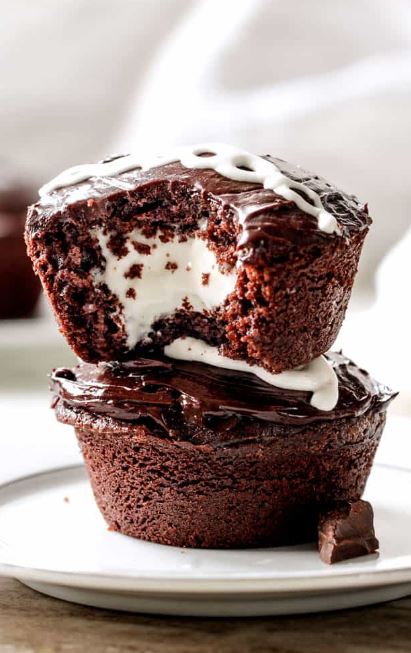 And perfectly ready for you to devour…And to become one of your new favorites year-round!
WANT TO TRY THESE HOMEMADE DING DONG CUPCAKES?
INGREDIENTS
Cupcakes
1 cup all-purpose flour
1/2 teaspoon baking soda
1/4 teaspoon salt
1/2 cup boiling water
1/2 cup unsweetened cocoa powder
1/4 cup semisweet chocolate chips
1/2 cup granulated sugar
1/3 cup brown sugar
1/2 cup Vegetable oil
2 large eggs
1 teaspoon vanilla extract
1/2 cup sour cream
INSTRUCTIONS
1. CUPCAKES: Preheat oven to 325 degrees F. Grease and flour (or use nonstick cooking spray with flour) a12-cup muffin tin.
2.Combine flour, baking soda, and salt in medium bowl. Set aside.
3.In a separate large bowl, whisk together water, cocoa, and chocolate chips together until smooth. Add sugar, oil, eggs, and vanilla and mix until combined. Whisk in flour mixture alternating with sour cream until incorporated.
4.Divide batter evenly among greased muffin cups. Bake 18 to 22 minutes or until toothpick inserted in center comes out almost clean. Cool cupcakes in tin for 10 minutes, then turn out onto wire rack and cool completely.
5.FILLING: Meanwhile, combine water and gelatin in large bowl and let sit until gelatin softens, about 5 minutes then microwave until mixture is bubbling around edges and gelatin dissolves, about 30 seconds. Stir in butter, vanilla, and salt until combined. Let mixture cool until just warm to touch, about 5 minutes. When slightly cooled, whisk in marshmallow creme until smooth.
6.Refrigerate filling until set, about 30 minutes. Transfer 1/3 cup marshmallow mixture to pastry bag fitted with small plain tip (or to a plastic bag and snip the corner) and reserve remaining mixture for filling cupcakes.
7.CHOCOLATE GLAZE: Add heavy cream and butter to a large microwave safe bowl and heat for two minutes, stir to combine. Heat at 30 second intervals if butter is not completely melted at this point. Add chopped chocolate and stir until chocolate is melted and smooth then stir in corn syrup. Let cool to room temperature, about 10 minutes.
8.ASSEMBLE: Insert a knife at approximately 1/4 inch from the edge of each cupcake, and proceed to cut a cone shape. Remove cone and cut all but the circular top off ("top") – or just eat the bottom of the cone. Using a spoon, fill each cupcake with the marshmallow filling then add "top." Lightly frost with Chocolate Ganache Glaze. Let set then pipe reserved marshmallow filling in decorative pattern on top.